Adding New Winches for Inland Towing and Upgrading Old Ones
Just because a winch has been used for a long time — try 27 years — it doesn't mean it needs to be replaced. Perhaps it just needs a little modernizing. Twenty-seven years is how long three Markey Machinery DESH-5 deep-sea research winches have been on the 274'×52′ Ronald H. Brown, a NOAA research vessel.
Bollinger Mississippi Shipbuilding, Pascagoula, Miss., awarded Seattle-based Markey a contract to upgrade the Ronald H. Brown's deck equipment "to current standards and current practices," said Scott Kreis, Markey's vice president of sales. That includes the three Markey DESH-5 winches that the company designed a few decades ago for the oceanographic industry.
Markey's engineering department is upgrading the level-wind system on the winches by replacing the three-sheave level wind with a two-sheave instrumented mechanical-driven level wind. The original level wind "created slight backbends as the cable (conductor cable with metal armor sheathing on the outside and inside coaxial electrical cable or multiple conductor wires protected by insulation) went through the guide in the level wind," said Kreis. Now, the two-sheave level wind "has zero back bends."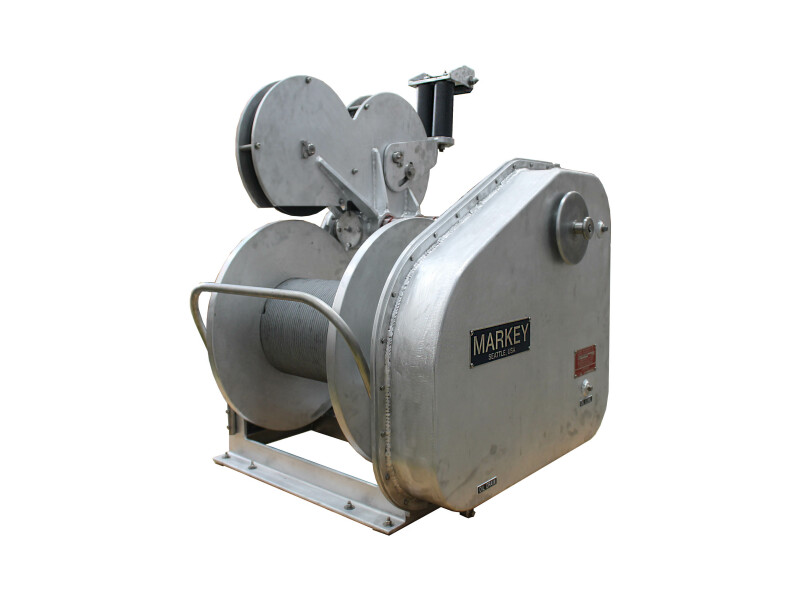 Markey Machinery's 7H hydraulic winch is Markey's smallest research winch but has many features found on larger survey winches. Markey Machinery photo.
The winch project has been an ongoing process, with upgrades taking place when the Ronald H. Brown is hauled at the boatyard. The estimated delivery date of the refurbished winches is in the spring of 2024.
Smaller Markey winches aren't giving up any options just because of their size. For example, take Markey's compact 7H hydraulic winch. The winch is on the 60'×18′ Piping Plover, a harbor survey vessel with twin 670-hp Caterpillar C18s, built by Aluma Marine, Harvey, La. The Piping Plover was delivered to the New York City Department of Environmental Protection in January.
The 7H hydraulic winch (an electric model is also available) is not only the lone aluminum winch in Markey's lineup, but it is also the smallest research winch, at 50″×50″×60″ and 1,350 lbs. without its wire. The 7H winch includes "features almost never found even on deep-sea research machines 500 times larger," said Kreis, including instrumented level wind with load monitoring showing how much cable is out.
The winch comes with two drums, which allows different types of wire on each drum, thus, drums can be swapped out as needed. "That's something you don't see very often," said Kreis. There are also two control stations, load monitoring and a slip-ring assembly. The slip-ring assembly allows cable with electrical conductors to be wound in on a winch drum or let out without the rotating cable losing its electrical connection to the onboard electrical outlet.